MIS-MANAGEMENT COMMITTEE:
Master:

         

*Justin Henry -766-4694

             

Betty Agostini, Flash Boos
Hash Ass:        Risa Mohammed - 752-4447                       ArleneValdez, Ronald Mc Donald
Hash Ca$h:      Lorin Paton – 622-5806 (O)                      Hash Booze: Nevie Boos – 637-3033 (H)
On-Sec:       **Mumtaz Amarali -  625-3617 ext 29436       Hash Softies: Richard Marlay –  351-3694
Hare Line:       Michelle Girod – 622-2204 (H)                    
Web Address:  http://poshashhouse.tripod.com                   *email address: Justin.Henry@ghl.co.tt
                                                            **email address : mamarali@republictt.com                                                                                             


   RUN:     #679                                                  RUN SITE: Chagaramas
   HARES: Justin/Richard/Timothy/               SCRIBE: Pleasantly Endowed
   DATE: December 29, 2007
This was the last run of the year and the first run of the reign of the new H.M. Justin. 
How different can 2 H.M.s be?  O-Zam-A, the previous H.M. – old, short, fat, his motto "why put off for tomorrow when you can put off for next month"!  Justin, the current H.M.  – young, svelte, his motto "let's do it all, let's do it now"!  Justin, it must be said, had a part in setting the Christmas run (the run just before this one) on the 15th Dec.  Then he set the Monday Live Run on Christmas Eve with Martin Griffith and here he was again, involved in setting this run.  Does this guy have stamina or what?  And does he have a life?
The hash site was at the Samaan Park off the Macqueripe Road, a lovely spot.  Cars filled the carpark and spilled out onto the roadway. 
Not surprisingly, there was a big turnout for the run.  Everyone was there, we even had some visitors.  The Jameson twins graced the run, one even doing a good impression of a Bimbo.  We had visitors from Kentucky, and when they were introduced to Asha – she, subtle as ever, said they Kant F*cking Cook!  Welcome back to Liesel and hubby and congrats on the birth of your newborn twins, Helmut and Hilda!  Also, welcome yet again to Giselle and her hubby.
The sun was out in its glory.  Maybe the much-awaited start of the dry season was finally here after the last month of constant rain.  It was very hot and everyone was anxious to get on with the run.
So much for the usual prompt start. The Hash-Hush was called at and Marley was selected to give the spiel, the usual – no river, no hills, no mud, no water.  The hash started off with a check at the beginning in the middle of the carpark.  Why can't hares ever learn that a stupid check at the beginning only serve to separate the pack,  except of course when we have an even more stupid hasher like Tweetie, who mistake a check for an x on the roadway leading to Covigne Valley .  After everyone ran around for about 10 minutes in all directions – up the Macqueripe Road, down the Macqueripe Road, into the bush, out of the bush - the hares eventually had to lead us back to "Tweetie" check and this is what fortunately kept the pack together.
From there, we went into the bush, through some bamboo and dry river beds and then back onto the road.  There we met a truck and surprise, surprise! – a beer stop!!  18 minutes into the run and already a beer stop.  Now – that's hashing!
The run continued again back into the forest, through some more river beds and then onto the bike trails where we interrupted some mountain bikers who had to step aside while our motley bunch ran past.  The hares tried their best to divert us off course and created some long back checks that more or less kept the frbs from getting too far ahead. 
Some 15 minutes later, we came back out on the Macqueripe Main Road and well, well – what did we have here – yet another beer stop!  While some hashers were busy partaking at this beer stop, the more eager ones took off and continued the run.  This caused a slight dilemma for our hares who were now hustling off these more leisurely beer-drinkers – "Hurry up, we have to set de rest of de trail!" But the hares need not have bothered, because these more eager runners turned out not to be too eager to get their shoes wet.  We soon met up with them when we ventured back to the trail and they were all scurrying up on the banks of the river, trying to avoid the water.  And they call themselves Hashers! 
We ran along this sometimes wet and sometimes dry river bed for another 10 minutes or so and then another check as we came out and onto the road.  The trail was found and soon we were heading in the direction of the golf course.  We followed the trail and meet with truck and yet another beer stop! 
Here we found Giselle's hubby downing a beer at the beer stop while running on the spot (to keep warm, he said!).  Mike Hale suggested that here was our poofter!  But this was not to be.
At the beer stop, there was an On-In that pointed the way back to the road and not to the golf course and then a 5 minute run back to the Samaan Park and the beginning of the festivities.
All thanks to Gottfried, our Austrian friend for sponsoring all the kegs of Carib at this run.   And thanks to the hares for a great run and some damn good beer stops!
Justin – yuh setting the nex' run?        On-On!
                  Justin's Junk
Being HM is great…. The ladies were literally trying to rip my shorts off…. Eventually destroying my favorite running pants in the process, but that was a small price to pay if this is a sign of things to come.
I hope the hares were taking notes on Saturday, on what I expect on future runs… regarding beer stops!! Beer stops are great for bringing a pack together and for dispensing beer as well and I hope to see them frequently in 2008!!
Welcome the virgins: Tony, Shalena, Raule, Josanne, Nigel, Lisa, Kiera and last but not least Rack-N-Lube and Goonie F..ker (From Horse's Ass HHH, Kentucky).
Nominees for Poofter: Jean-Paul for consistently running with a camel pack, even when there were beer stops on this run; Dave Blunden for boasting about getting in first, despite not consuming one beer at any of the three beer stops; Don for committing sacrilege and throwing away beer at one of the beer stops; and the winner, Tim, for using Immodium as a performance enhancer/wrinkle-reducing medication at the Boxing Day Football Match/Beauty Pageant. I warned Tim he would be in for a very long year with regard to poofter awards, after he nominated me on several occasions, and I must say revenge is sweet!
Special mention must be made to Ex-HM Gary Darwent and Ex-On Sec Denise Darwent and faithful hasher, Mark Hutchinson who leave POSHHH for a few years. We wish them good luck, but both fortunately (Denise) and unfortunately (Gary and Mark), we'll see them on the cruise in September.
Thanks to Ottmar and Gottfried for sponsoring the kegs. As you can see, they were quite well appreciated.
<![if !vml]>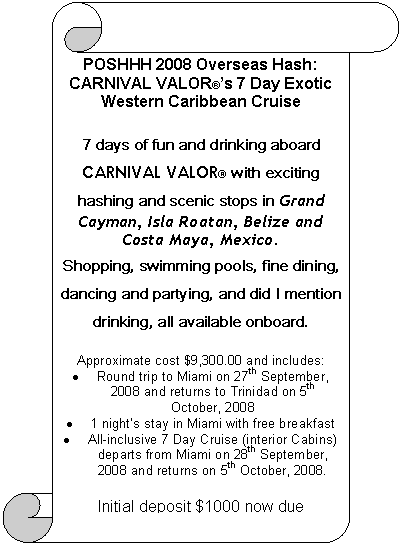 <![endif]>

<![if !supportLineBreakNewLine]>
<![endif]>
<![if !vml]><![endif]>
This is a call to all hashers…….Hash Kaiso 2k7 was a great success!
Now it's that time for us to create a fantastic show for 2k8.
So…..if you have no talent……some talent………and talent like Tanty Merle aka Miss Maraval 
we want to hear from yuh.
Judging category :
Presentation : 30 points       Composition : 30 points                   Originality : 20 points      Crowd Appeal : 20 points
DIRECTIONS TO THE NEXT RUN #681
DATE:
January 26, 2007
HARES:      Victor PHD
RUN SITE:  Tagarigua
TIME:     
From POS drive east to Orange Grove Rd. traffic lights and turn left (HHH), proceed to the EMR (Eastern main rd) then turn right and drive to next traffic lights/gas station, turn left onto Dhangraj Street (HHH) all the way to the end of the street, look for the HHH signs. After the run we limin at "Lance Bar"
<![if !supportLineBreakNewLine]>
<![endif]>
RECEDING HARE LINE
RUN #            DATE             HARES                                                  SITE             
<![if !supportLists]>680 <![endif]>           January 12                     Fearsome Foursome
<![if !supportLists]>681 <![endif]>           January 26       Victor Smith
682                February 9       Harold Lee/Arthur/Patrick
683                February 23                    Rob & Liz (Red Dress Run)
684                March 8          Ronald Mc Donald, Martin Griffith and Victor
685                March 22           (easter weekend) Nevie
<![if !supportLists]>686 <![endif]>April 5             Derek De Freitas/Cyril
<![if !supportLists]>687 <![endif]>April 19            Mountain Goats                                       La Cuevas
688                 May  3         Betty and the OPP        
689                 May 17           Richard Hart
<![if !supportLists]>690 <![endif]>May 31           Nico
<![if !supportLists]>691 <![endif]>June 14          Andre Ache
<![if !supportLists]>692 <![endif]>June 28          Alan/Justin/Jerry