MIS-MANAGEMENT COMMITTEE:
Master:          *Zameer Ali -6789-172                            Betty Agostini, Flash Boos
Hash Ass:        Justin Henry -766-4694                           Vaughn James, ArleneValdez
Hash Ca$h:      Lorin Paton – 622-5806 (O)                      Hash Booze: Nevie Boos – 637-3033 (H)
On-Sec:       **Mumtaz Amarali -  625-3617 ext 29436       Hash Softies: Richard Marlay –  351-3694
Hare Line:       Michelle Girod – 622-2204 (H)                    
Web Address:  http://poshashhouse.tripod.com                   *email address: u4ria532@hotmail.com
                                                            **email address : mamarali@republictt.com                                                                                             


   RUN:     #676                                                  RUN SITE: Tacarigua
   HARES: Virgins and children (Michael Helen Naomi and Hannah)     SCRIBE: Nick Ribbeck
   DATE: November 17, 2007
Accidents in Trinidad always seem slightly more dramatic than in the UK.  Endless traffic on the highway (caused by a car which seemed to have jumped at a 40' container, knocking it over and blocking one lane east and one lane west) had Betty yelling at several cell voice mails that the start of the hash should be delayed.  Arriving 40 minutes after the suggested start time (I always found that it helped the Anglo Saxon blood pressure to think of start times and meeting times in Trinidad as suggestions) the pack had only recently set off.
A narrow trail took us east as a fairly easy introduction to what was to come – some mud and a bit of an upward slope.  Betty's Beautiful Bottom or Agostini's Angelic Arse rapidly disappeared towards the front of the pack where, much to the relief of many who found themselves at the front in vulnerable checking positions, she started to do what she does so well…………..
Twice we plunged off to the left, up a hill and back down again only to meet walkers – some of whom were happier than others!  These walkers were confidently led Hannah and Naomi.  Helen helped too! For the third time the trail began to rise through the bush, eventually coming out in cultivated land and we then dodged sorrel bushes until we almost failed to go over the top and down the other side.
A check at the top had a number of people reluctant to check down hill.  My recollection is that it was eventually Michael who plunged downwards and started calling on on.  A suspicious manoeuvre but 4 or 5 followed.  The calling tempted the 30 or 40 front runners down into the valley.  As we slithered and slid the unwary encountered thorns – thorns that I had forgotten existed.  Little ones ( the vicar's pikant?) coming straight out of the trunk of the tree and great circles of long upward pointing ones which looked as if you could use them to sew canvas.
This run had some serious hills.  It also had some serious razor grass.  This was another little tropical hazard I had forgotten about – a couple of attempted short cuts resulted in bloody stinging legs and several remarks about typical brainless hashers.  Thanks for the water, Daphne!
There was some lovely running next.  Still same ups and downs and a significant mango tree but the gentle (ish) forest trails were a treat.  4 days later, back in Manchester, I was running in drizzle, 2 shirts and track pants in about 6 °C.  Those forest trails seemed particularly sweet!
What a great run.  Thanks to all.  And thanks to all who set the Tobago runs: the Bimbos, the Dookies and Betty and Justin set excellent runs and the camaraderie, fun and laughter made this a holiday we shall repeat……
Back to Tacarigua.  Carib and the ol' talk flowed, down downs for Michael and Helen and me and Penny and then the Poofters.  Leroy with the cowboy hat drank a down down  and various others were identified but somehow the HM became the Principal Poofter thus ensuring lots of free beer for himself and a gradually deteriorating condition as we progressed to Lance's rum shop.    On On


                 Zam's Zanies
One more! One f..king more! Run #676, set by probably the youngest hares ever, including Nick, could be dubbed Naomi and Hannah's revenge. I was able to witness their distress going down a slope with a rope in Tobago. So it was their turn to get even. A well set run with lots of uphills, downhills and rivers. The ON IN was hardly visible! I hope the Hares went back to pick up the paper.
Nominees for Poofter: Cowboy, Hagi and Michael Chatoncellfield, however Gerry had the bright idea to nominate the HM for a not so valid reason, so, being a little short on cash, the prospect of two free beers looked inviting and I decided to accept with grace.
<![if !supportLineBreakNewLine]>
<![endif]>
Virgins: Dexter/Leroy/Akilah/Benoit/Sonia/Fabien/Anouska/Daphine/Kevin

GET YOUR CHRISTMAS PARTY TICKETS NOW FROM COMMITTEE MEMBERS. IT'S GONNA BE A BALL. $175.00 ALL-INCLUSIVE.
DIRECTIONS TO THE NEXT RUN #678
DATE:
December 15, 2007
HARES:      Zam/Justin/Betty
RUN SITE:  Santa Cruz
TIME:     
From POS - drive to Santa Cruz via the "Saddle" as though heading toward San Juan. Go past the bend at the fire station and La Sagrasse (not sure of the spelling) Road on the left. The next left is Santa Barbara Blvd. The property on the corner (left hand side) is Nick Drew's residence. Drive through the gates and park.
From the east, go through San Juan toward Santa Cruz passing Pax Vale etc. Santa Babara Blvd. is opposite Cantaro Road entrance.
<![if !vml]>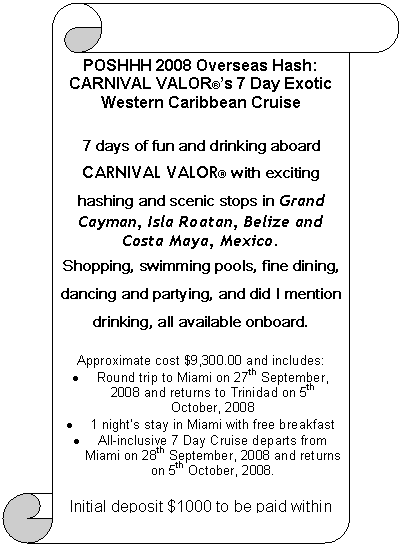 <![endif]>
<![if !vml]>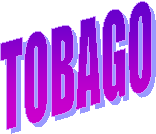 <![endif]>
RUN: #674 & 675                                                        
   SCRIBE: Nick Ribbeck
   DATE: November 9, 10, 11, 2007     
Did I agree to this, I don't seem to recall agreeing? I am positive; I am not the right person to do this. In St.Kitts, we don't do hash trash, so I have never done one, but here goes.
The Tobago hash, a long weekend of craziness, started, for me, with Liat losing my bag, and when I arrived at the hotel, to my utter horror, I found many hashers without drinks, I thought I had made a BIG mistake in coming, but they soon put that right by telling me that the bar was about 100 yards away, by the pool. Once I had got couple of caribs in me, I felt much better. Some of the Hashers came over and joined me; I can only remember Neville and Betty (Boobs), after several more drinks we went back to where others were. Beer had appeared somehow and after some more beer I went to sleep with Five Bimbos. I am not revealing any more.
Next morning, more hashers arrived, but even more importantly the beer had arrived. Having had coffee and a beer for breakfast, I went off to check for my bag, I did this three times on Thursday and twice on Friday. I finally got my bag on Friday afternoon. First thing I did, after I got my bag was to go for a dip in the sea; I could finally afford to get my cloths wet. There was no hash on Thursday, so we had lots of time to get inebriated. More hashers arrived throughout the day and each brought his/her own brand of jollity. Asha(?) tried to get some of the hashers to participate in some games devised to seek out the best ???, but she made one little mistake, hashers were not drunk enough. Once a hashers has had one or two too many drink, then the hasher is ready and willing, but may not able to, and this is the time for games, because then you are likely to get some hilarious outcome.
Friday we had the first hash, which was set by the BIMBO's. I thought that this was a great hash; it had all the elements that go to make it a good hash. It had uphill, coming down steep side using rope, walking through a small river, lots of ducking and diving was required and proper amount of confusion as to a correct trail. One or two people even managed to get cuts. At the end, as if to put cherry on the top BIMBO's had even managed to organize a downpour. Many of the hashers had found shelter, but were without beer, a real pitiful site. And if that wasn't enough we ran out of beer. The down down had to be limited, and we were forced to stop at a watering hole on our way back to the apartments. Asha rolled out her party games once again and managed to bully some hashers into participating, and this was the most dangers night for me , I nearly got squashed; but came out with what must be my Tobago name "Hot Dog Paddy".
The hash on Saturday was set by the Men, this again had all the elements that go into making a good hash; and it was a good hash. But the men lost some point on uncoordinated attire, and not being able to arrange some sort of outdoor spectacular event, such as a downpour day before. This time the down downs were held back at apartments, were there was lots of beer. I believe, I got down down for being the only person not from Trinidad or Barbados.
I didn't take part in the Sunday mornings live run; I didn't think I could keep up.
Many of the Bajans and I departed that afternoon, and Liat took this opportunity to let me experience some more of great airline experience. We were not allowed into the lounge and had to wait on the stairs. The plain arrived late from Grenada, and consequently I missed my connection from Barbados to Antigua. I left Barbados some four hours later, and had to overnight in Antigua. I must say that they were very apologetic and took reasonably good care of me, but took yet another opportunity to mess thing up, by not ordering a taxi to take me to the airport. After repeated calls the taxi arrived. I was the person last on the plain. I arrived at home just in time to drive my two sons to school and had thus started my week.
In a nutshell, other than traveling, I had good time.
I am clearly not very good at trashing a hash, I love hashing, and that's my excuse.
Please remind Justin to keep me informed about the cruise.
On! On!  Toy Man <![if !vml]>

<![endif]>
Tobago 2007 Overview
By Tall Dark and Havesome
The mere mention of the words Tobago Hash Weekend immediately conjures images of previous weekends and the inevitable thought of "will it be better?" And so it was that another weekend was upon us. The weekend started for some as early as Wednesday. That lot of Hashers who feel they can play golf. I believe that they Go Out to Lime on Fairways. (not the one in Maraval)
The other normal Hashers if there is such a thing started out on Thursday morning. I got to Piarco around mid-morning and was greeted by a Hasher bearing a carib. I did not notice that they were congregated out at the Bar outside the terminal doing what hashers do best. Then I was asked if I had seen bacon to which I replied no I had eggs for breakfast. Then a few frantic phone calls were made and I then realized that the Bacon they were referring to was Susan Bacon who was running late.
On getting to Johnstons around I met approximately 20 odd and I mean odd hashers sitting around drinking. They were however upset that they had to go all the way to Storebay's Pavillion bar to get a beer.
As we sat around talking and drinking the beer truck arrived. This sight meant that the weekend was really going to happen. Throughout the afternoon there was a steady stream of hashers, some traveling light and some as though they came for a week.
As usual there was plenty shit-talk and picong throughout the weekend
Weekend Highlights
<![if !supportLists]>ü <![endif]>Hotel room shuffle
                  Hashers were being moved around as their arrival did not coincide with there room readiness
<![if !supportLists]>ü <![endif]>The barbecue
                  As normal, every year confusion. One hasher could not remember his meat.
<![if !supportLists]>ü <![endif]>The changing of the guards
                  The next generation of Hashers was well represented by the off spring of Paton, Darwent,                             Nuzum, Girod
<![if !supportLists]>ü <![endif]>The shouting match between the Brian and Linda
                  Linda won this match. This next bit is meant for Linda and only Linda."The boy has issues                              especially when he is in Tobago and when Short Man upsets him. I know this from personal                            experience. The upside to this however is that he might stop talking to you for at least two years.                           I know this from personal experience and those were my two most enjoyable years as a hasher                               since he joined."
<![if !supportLists]>ü <![endif]>Win at all cost
                  There is a Bajan Hasher who was formerly known as the "Biafran" whose main focus is on                           coming first, not only with his wife, but also on a hash. He got to the ON IN on Saturday and                                took a wrong turn like many others but the smart ones yours truly included turned back after                                   going about a mile. He continued on no doubt with the thought in his mind that "Yes, today they                             cannot beat me". Now I must digress. Just imagine you are running after the ON IN and after 2                                    miles there is no other Hasher in sight. The ordinary hasher (there is that term again) would turn                                  back, but not this hasher. Run Forest run. He eventually headed in the direction of the only beach                                   he knows in Tobago, Storebay, but stopped short and got a drop back to Arnos Vale. And so it is                           decreed that the Biafran will now be known as Forest Gump. This decree is made straight for                                the Hart.
<![if !supportLists]>ü <![endif]>The Saturday night lime at the night spot on the way to Pigeon Point was a blast
<![if !supportLists]>ü <![endif]>Gerry was renamed Bruise Knee
<![if !supportLists]>ü <![endif]>DJ did not like how Gerry was looking at his lady so he hit him with his nose.
Weekend Quotes
<![if !supportLists]>Ø <![endif]>"Leh we kill them goat and make curry duck"
<![if !supportLists]>Ø <![endif]>"Oh shit look at tooo-toooooo"
<![if !supportLists]>Ø <![endif]>"What direction was the'X' facing?"
<![if !supportLists]>Ø <![endif]>"I going to put meh wet suit out to dry"
<![if !supportLists]>Ø <![endif]>"They break in the room when I was trying to spend quiet time with my honey"
<![if !supportLists]>Ø <![endif]>"That is the only pants yuh have or is it a uniform?"
Other Observations
<![if !supportLists]>Ø <![endif]>There was skinny dipping. I repeat, there was skinny dipping. This took place on Saturday night or make that early Sunday morning. Gerry you should have listened to me.
<![if !supportLists]>Ø <![endif]>This weekend was the first time that there were proxy hares. This situation arose when the Dookie brothers refused to take their Down Down as hares. I shall put it to the Council of Ex HMs and Old Farts that the elder of the brothers be made poofter for the rest of the year seeing that he is the immediate Ex HM and his action is tantamount to disrespect to the office of HM.
<![if !supportLists]>Ø <![endif]>Many hashers do not know the difference between shaving cream and whipped crème
<![if !supportLists]>Ø <![endif]>Daphne looks quiet but she erupts like a volcano
                 Zam's Zanies
Run #674, set by the Bimbos, was preceded by a lot of rivalry and competition. After a long drive to Kendall with some uncharted stops for medical attention (or was it just attention?), we arrived at the run site in torrential sun. Chief Bimbo, Asha, gave the preamble and we were off. Some illegal tactics, appearing arrows and Hares leading the pack down the wrong trail followed by rope-a-dope, we were out on the beach. Some injuries but no fatalities. While we were sipping on some cold beer, there appeared a squall in the distance. Bets were taken, "nah, it not passing here". We all ran for cover while some who are not accustomed to water falling over their heads, including showering, took advantage of the downpour. Then there was only enough beer left for the down-downs and they had to take it on their knees. Famia explained how she is accustomed to being on her knees with stuff running down her chin. The buses departed with the HM ending up on the slowest bus, by the time we got to the bar stop, the others were ready to leave. More rain, so we had to take shelter at the bar and that's the story I'm gonna stick to. Meanwhile back at the ranch, the food lady was having a cow, having met an empty hotel, panic. The hungry critters showed up and devoured the food.
Later on the HM was taking a five while the KKK was gathering outside to start a lynch mob. Beware of the Shaving Cream Bandit! Confucius say shaving cream on floor and walls, lead to broken nose!


Run #675, gave the Doobies + 1 a chance to outdo the Bimbos, preceded by a lot of hype as usual. Being an A to B run, some vehicles had to be moved to point B by Boobie #1. This was supposed to take 10 minutes. An hour later, Boobie #1 still has not returned. The crowd was getting restless so the run was called to order. We set off on a big loop, through a tunnel and came back not far from the run site. It was uphill from there and into some greenery past the cows. Some pleasant terrain took us back to the Arnos Vale Beach (those of us who turned right!). A few hours later Forrest turned up, some didn't even realise he was missing. It was only when Linda pointed out that the insurance premiums were due. Food, drinks and mango chow later it was back to the ranch. Before the food was served the down-downs were called. Only +1 was there to do the down-downs, where were the Boobies?
Nominees for Poofter: Friday, Barbara Paton for the missing rum bar, she could not be found. Saturday, Forrest, for not telling us he was there to do the Tobago Marathon.

ON ON

RECEDING HARE LINE
RUN #            DATE             HARES                                                  SITE             
<![if !supportLists]>678 <![endif]>December 15      Hash Christmas Run and Dinner
<![if !supportLists]>679 <![endif]>December 29                    Justin/Seon/Adrian/Timothy/Kevin
<![if !supportLists]>680 <![endif]>January 12       Fearsome Foursome
<![if !supportLists]>681 <![endif]>January 26        Victor Smith
682                February 9       Karen & Richard Hart
683                February 23                    Rob & Liz (Red Dress Run)
684                March 8          Ronald Mc Donald, Martin Griffith and Victor
685                March 22        Neive
<![if !supportLists]>686 <![endif]>April 5             Derek De Freitas/Cyril
<![if !supportLists]>687 <![endif]>April 19
688                 May  3                  
689                 May 17
690                 May 31